Halloween
Origin, Trivias and Facts.
Happy Halloween !

What does it actually mean ? What was the origin Halloween and why do people celebrate it ?



Other Names given to the celebration on 31 October :
All Hallows Eve (Hallow is old English word for Saints,
All Hallowtide
Feast of the Dead
Day of the Dead - celebrated in Mexico (El Dia de los Muertos)
Samhain (New Year's Eve - end of Sunny days and beginning of Winter darkness)
Celebrated on 31 October

Originated 2000 years ago amongst the Celts who lived in Britain

The correct spelling is "Hallowe'en"

This season marks the end of harvest

1 November was a celebration of All Saints Day in England.
The night before became known as All Hallows E'en and it evolved to be Hallowe'en or Halloween.
Fun Facts
The world's fastest time to carve a face into a pumpkin is 54.72 seconds, by Stephen Clarke (USA), on October 23, 2001
More than 93 percent of children go trick-or-treating each year.
This is recognized as the 2nd biggest decorated celebrations after Christmas.
Trick-or-treating is thought to have its origins in a European custom called souling where people would beg for "soul cakes."
There were estimated 36.8 million potential "trick-or-treaters" ages 5-13.
Legendary magician Harry Houdini died in Detroit from a ruptured appendix on Hallowe'en in 1926.
Candy sales average about 2 billion dollars annually in the United States.
Top most popular candy for trick-or-treaters are chocolates with Snickers #1.
Halloween - Is it superstition or tradition ?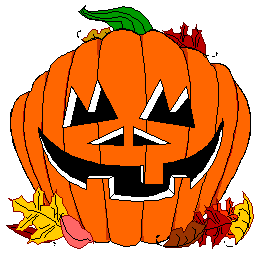 Why Jack-o-lanterns ?

Jack o' Lanterns originated in Ireland where people placed candles in hollowed-out turnips to keep away spirits and ghosts on the Samhain holiday.

Why Orange and Black ?

Orange and black are hallowween colours because orange is associated with the Fall harvest and black is associated with darkness and death.

Why black cats ?

Black cats were once believed to protect witches.

Why bonfire ?

"Hallowe'en" was brought to North America by immigrants from Europe who would celebrate the harvest around a bonfire, share ghost stories, sing, dance and tell fortunes.

Why wear ghost masks and costumes ?

The ancient Celts thought that spirits and ghosts roamed the countryside on "Hallowe'en" night. They began wearing masks and costumes to avoid being recognized as human.

Why apples ?

Bobbing for apples is thought to have originated from the roman harvest festival that honors Pamona, the goddess of fruit trees.

Why dress up as a ghost ? Amongst the Celtic people, it was believed that dead people came back as ghosts to road the earth. So in order not to bump into a ghost and be recognized, people wear ugly masks when they walk the streets after dark so the real ghosts would not worry them.
Why Trick or Treats ?

To keep the ghosts away, people placed food outside their homes to appease the ghosts so they would not enter the house. Today this has turned into a mischief night - Trick or Treats.
About Pumpkins & Jack-o-lanterns
Are pumpkins always orange in color?
Pumpkins also come in white, blue and green. Great for unique monster carvings!
Pumpkin is a squash and comes from the family of cucumbers
The record for the fastest pumpkin carver in the world is Jerry Ayers of Baltimore, Ohio. He carved a pumpkin in just 37 seconds!
To restore a swiveled pumpkin, soak it in water to rehydrate
99% of pumpkins sold are used for Jack-O-Lanterns
Story of Jack-o-Lanterns

This is a legend from Ireland:
There was a man named Jack.

Jack could not enter Heaven because he was a miser.

Jack could not enter Hell because he played jokes on the devil.

So Jack had to walk around on earth with his lantern until he died.
---
Easy to make crafts - 6 sessions project
Fun and safe Games of the season
Story-Fluffy's first experience
Is Halloween evil?
Other Preschool Themes & Holidays
Return to Activities for Special Days
Go to top of page
Go to Forum Page to share your experiences and ideas
Have A Great Idea?
Share it here and help someone today.
What Other Visitors Have Said
Click below to see contributions from other visitors to this page...

Pumpkin Decorating Not rated yet
Halloween is round the corner. Here's a great Halloween craft that kids would enjoy. And you can use it to decorate your room. Materials: Orange …