Outdoor Activities
Enhance your preschoolers' gross motor skill
One of the most appreciated preschool activities is the Outdoor activities. Unless the kid is sick or physically disabled, which kid would not want to get out into the sun to get a breath of fresh air, to run around and just have fun?
NATURE WALKS 
Just remember to dress well for the season and have enough adult helpers or guardians to avoid missing children.
Look up - See the clouds in the sky and talk about the shapes and sizes. Imagine different animal shapes in the sky. What else do you see when you look up. Do you see airplanes, birds, tall trees....? What a treat if you see hot air balloons eh? Try catching butterflies. Look around - What is at the kid's eye level? Play games like : "I spy with my little eyes something brown. What is it? No, not a tree trunk, no not my bag.... yes, its a bench !" Look down - Spot little insects - ants, worms... snakes! oh No! Throw some seeds on the ground to make a trail and return to see if they are still there. Talk about Hanzel and Gretel
GARDENING- Preschool Summer activities 
So much can be done in the garden. If you have a gardener, tell him to save some work for your kids. Or give him a day off and let the kids have some outdoor activities planting, raking, weeding...etc Planting -you can prepare a garden patch for planting vegetables like carrots, leaf lettuce and radishes and how about pumpkin plants so they can have their very own jack o'lanterns. Watering -If planting takes too much work, then giving your kids a hose would do wonders. Just water the plants and have fun. Yes, water themselves too. Gardening Chores - Pull some weeds in the Summer, rake the leaves in the fall, shovel the snow in Winter and water the flowers in Spring.
---
SWIMMING 
Swimming is another outdoor activity that children love. At the beach - What to bring? inflatable beach toys, beach ball, sand building tool kit, little toy cars - tractor and bulldozers are ideal. And of course bathing suits and sunblocks. Running along the sand beach is ample exercise for their little legs. At the pool - above ground pools are small, safe and economical. Many games can be played in the pool like: Marco Polo, a simple water polo. What about some simple activities like: who can stay the longest time face down in the water? or run to the other end, or pick a sunk stone.
---
SPORTS 
Preschool Sports are fun and prepares little children to a world of competition in the right spirit. Experiencing the joy of winning and losing in a fun way helps them to appreciate the realities of life.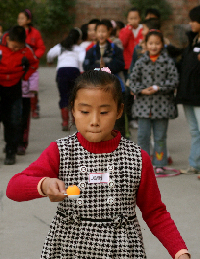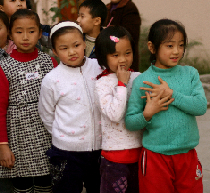 Running / Walking / crawling
Skipping / Hopping / Jumping
Throwing balls / sticks
Relays - ping pong ball on a spoon
Telematch
Set up 3 or more stations with a pylon or any markers. Have children run through the stations and do the required activities.
Eg. Station 1 : Changing socks
Station 2 : Draw a picture
Station 3 : Blow a whistle
---
NIGHT TIME 
Outdoor activities during night time can be fun and exciting. The whole atmosphere is very different with darkness all around. With preschool kids, safety is of primary concern. Therefore, there must be ample lightings and close supervision.
Using the flash light - you can have shadow plays either with the fingers or the whole body. All you need is a big white or one colored bedsheet and a large flash light.
Campfire - is an ideal outdoor activity in the night. Sitting around the fire is safe as the people forming the circle creates a natural boundary for the kids. The heat from the fire will deter them from getting too close. There are lots of campfire games and songs you can introduce to such preschool activities.
Counting Stars - on a clear dark night, sitting or laying on a big ground sheet, children can look up into the sky and count the stars. You can talk about constellation and planets, or sing "Twinkle, twinkle little star" The ground sheet acts as a safety boundary for the kids. If you have a whole bunch of kids, divide them into groups with an adult or older teens on each mat.
---
Other preschool activities

Preschool Crafts


Go to top of page - Outdoor Activities