Paper Crafts
Easy crafts for kids in Preschool
All preschool activities at some point would include paper crafts for kids in their preschool lesson plans. Paper Crafts are fun to do, easy to prepare, and very inexpensive.
In this arts and crafts project, you will help kids with his / her coordination, using fine motor skills. He is given a chance to exercise his creativity as he indulges in these kinds of mix and match activities.
Cutting pieces of shapes and putting them together to form a bigger object or scenes can be really fun.
Using shapes and sizes in arts and crafts is also an aspect of teaching children kindergarten mathematics. It's pre geometry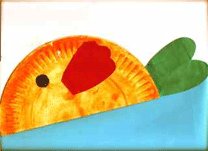 MATERIALS REQUIRED
Sheets of craft papers – different colors
Disposable Paper Plates
Colour Pencils / Markers / Finger Paints
Scissors (optional)
Template (optional)
Table Mat
OBJECTIVES
To learn to use scissors and glue applications
To enhance creativity
To improve eye-hand coordination
To work on fine motor skills
To experience with colors & shapes
To have fun
AGE
STEP BY STEP INSTRUCTIONS
Ensure the children washes their hands
Put on an art apron
Cover art table or floor with disposable plastic sheets or newspaper to protect the table / floor
Have sufficient art stationeries
Show kids how to use the scissors to cut the outlines of pictures
Show kids how to apply glue in a neat orderly manner
You may want to draw attention to your kids on how to compliment and contrast colors
Use different sizes of paper / disposable plates are ideal
Let the kids colour the plates - either using paintbrushes or finger painting.
Put aside and wait for it to dry
While waiting, cut the fins, tail, eyes...etc
When the paints dry, fold the plate into two, round edge being the top.
Stick the different cuttings onto the plate to make a fish.
You may want to attach a string so the kids can hold it.
Encourage kids to help with the putting away of art material after the activity. No kids are too small to learn this.
See Also:
Many more preschool crafts ideas.
Many more preschool art projects.
Custom Search
Go to top of page -Paper Crafts
Before you leave, Go to Forum Page to share your experiences and ideas