Animals or Plants ?
Animals that lives in the ocean? Unbelievable. Well come along and let us learn more about these interesting sea creatures. Include this Animal Theme in your preschool lesson plans and let your preschool kids experience something other than your four or two-legged creatures on land.


What is this ?
What is it?
Hmm I wonder.
Do you wonder ?
Have you seen them before ?
Where do you find them ?
In the garden ? No At the beach ? No. On the trees ? No In the sky? No.
Hmm. Where have I seen them before ?
Ah. I think I know. Do you know?
They are found in the water, under the ocean, especially in the coastal waters

Really ? but they look like flowers to me.
Someone says they are not flowers ? You mean they are not plants ?
Then what are they ? Animals !
Really? Let's take a closer look.

This one is called SEA ANEMONE. They usually stay in one place. Some will move, but they take a long time to move only a little bit.
Sometimes, they like to take a ride on the back of a crab. When the crab eat the food and drops some, the sea anemones on its back will pick up the bits of food and eat it.
Do you see the tentacles ? The sea anemone captures tiny fish or shrimps with these tentacles and sends them to the mouth. The mouth is on top of the body.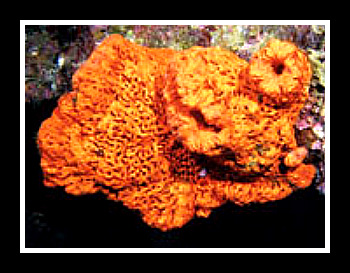 What's this?
Oooo, it looks like an ugly rock. No, wait, it looks like a sponge.

Sea sponges - that's what it is ! Sea sponges.

This is also a special animal that lives at the bottom of the ocean.

Most of them are small but sometimes they can grow to 6 feet - as big as a man. Sometimes you can see the small ones in a home aquarium.
Look at the dots. Dot, dot, dot, dot....etc The sea sponges are covered with many tiny dots. They are called pores.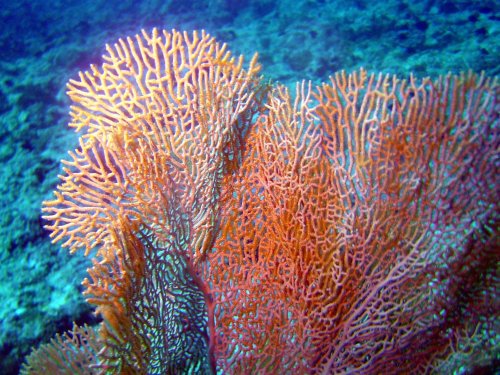 Now, what are these ?
What do they look like?

This is another marine animal that lives in the ocean but nearer to the coast.

They are called Corals.

There are all kinds of shapes and sizes of corals and they are found in warm, shallow water. Some corals are hard and some are soft. When they die, they will become hard and chalky.

Photos from thinkquest library.

---
Have A Great Idea?
Share it here and help someone today.
What Other Visitors Have Said
Click below to see contributions from other visitors to this page...

Paw Print Path

Begin by telling your students a short story.  Your class has been given the mission of helping a little lost kitten find her way home.  To do …
---
See Also:
Learn to make insects crafts - Busy Bee, Wiggly Worm...etc
Kindergarten Reading Program
Mirror Image Painting
Go to top of page - Animals or Plant
---