Montessori Practical Life Activities
Manipulating with Gross and Fine Motor Skills in preparation for writing
The Montessori Practical Life is the first in the series of Montessori education in Montessori schools. The child learns skills for daily practical living. Such preschool activities provide the foundation for coordination of movement, independence and a sense of order, concentration, and a care for himself and the environment.
The process of learning the Montessori Practical Life skills is divided into clear isolated progressive steps. Without much verbal explanations, the child observes the well-defined and calculated movements and catches on with accurate imitation.


Scroll down and take a look at some of the Montessori Practical Life activities :
SELF CARE activities like:
Washing Hands
Tying Shoe laces & Ribbons
Putting on buttons
Dressing – T-shirts & Jackets
care of clothing


MONTESSORI CLASSROOM RULES
Montessori Teachers take pain and time in teaching the kids step by step, basic rules of the classroom like:
Tidying up to complete a cycle of work
Looking after classroom pets and plants
Taking care of books with a sense of caring for public properties
Preparing and serving refreshments
Carrying and handling materials
Walking across the class without clashing onto someone else
Using floor mats to define work space
GRACE & SOCIAL SKILLS
The child learns how to:
Introduce oneself
Shake hands & Welcome guests
Await one's turn and not interrupt
Make requests politely
Apologize when in wrong
Offer to help others
Be confident and Make eye contact
Be a team play and work co-operatively
Serve others like offering refreshments
Graciously walk with a partner
Be aware of table manners
Use their inside & outside voices
Resolves conflict
Other activities in this Montessori Practical Life that enhances the kids' eye-hand co-ordination, sequencing etc.. like:
Pouring liquids
Washing dishes
Cleaning and setting a table
Polishing
Doing laundry
Sweeping & Mopping
Carrying chairs
Sorting sizes and colors
Opening and closing locks, bottles..etc
Sewing
Using Pipettes
Cutting, grating, slicing
Folding
Kids at this impressionable age love to role play and pretend to be little adults. Why not let them do it systematically, progressively and under observation ?
When a child gets absorbed in his world of discovering cause and effects of his actions, he is actually perfecting his small motor skills - the use of his fingers and wrists - which is so necessary in pre-writing skill.
This is the first and easiest level to introduce to a new students. The teacher doesn't have to give much instructions with words. Rather, she would show the child how to do the exercises, allow the child to imitate and confirms the actions with approval.
With practice, the child learns quickly and masters his practical life skills, and therefore builds confidence and concentration.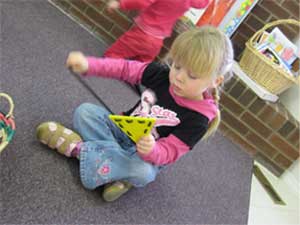 Check out Montessori Method on Sensorial Activities
Check out Montessori Method on Language Curriculum
Check out Montessori Method on Mathematics Curriculum
An Overview on the Montessori Method


Have A Great Idea?
Share it here and help someone today.
What Other Visitors Have Said
Click below to see contributions from other visitors to this page...

How to get kids to love cleaning up Not rated yet
I have found a fun way to get your preschool kids involved in cleaning up--not always an easy task! At the end of the day, when the tables are pretty …
Custom Search
Go to top of page: Montessori Practical Life
Return to Preschool Lesson Plans and Activities Homepage