Preschool creative activities
making mirror images
Many preschool creative activities are done with paints because kids love the world of colors. It gives them an opportunity to express themselves as they work with paints. From the children's art work, teachers often can tell the emotions that the child is going through. Such preschool activities also provides opportunities for kids to venture into new ideas and creativity.


Here, I will share with you a preschool art that is simple and quick with not much preparatory time involved. You don't even need to provide sample artwork. All the child needs is craft papers and paints,
You will produce a beautiful mirror image masterpiece in minutes.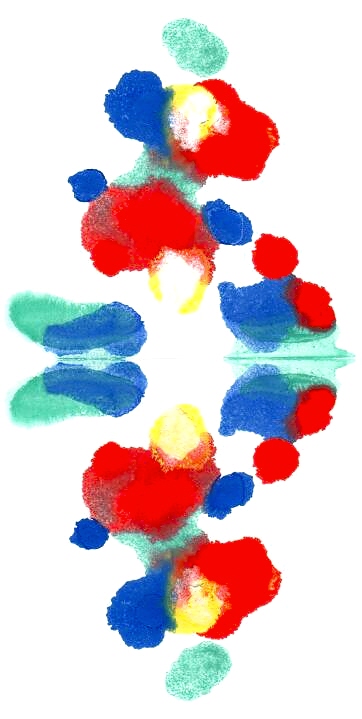 MATERIALS REQUIRED
Sheets of craft papers
Rollers / Rulers
Paints - at least 3 primary colors
Scissors (optional)
Table Mat
OBJECTIVES
To create a mirror image of paint patterns
To enhance creativity
To improve eye-hand coordination
To work on fine motor skills
To experience with colors
To have fun
AGE
STEP BY STEP INSTRUCTIONS
Ensure the children wash their hands
Put on an art apron
Cover art table with disposable plastic sheets / newspapers
Have sufficient paints – quantity and variety of colors
Fold the craft paper into two, then open it, making a dividing line
Squeeze / apply paints in blots onto one side of the craft paper
Fold the paper over the paints and press with a roller or ruler
Ensure paints are spread across the paper within the fold
Slowly peel open the top fold and enjoy the mirror image picture
Talk with the kids and help them make up their imaginative story of their picture
You may want to draw attention to your kids on how secondary

colors are made when they happen to overlap the colors

Put it away in a safe dry place to dry
Encourage kids to help with the putting away of art material after the activity. No kids are too small to learn this
See Also:
Finger, Hand and Foot Painting
Funny Pictures with Thumb Printing


Easy to prepare Mexican Recipes
Have A Great Idea?
Share it here and help someone today.


Go to top of page - Preschool Creative Activities
Go to Forum Page to share your experiences and ideas