Spot Painting - quick and easy
Spot Painting is one of the best and must-have of all preschool activities as it is so quick and easy to do, yet colorful and beautiful. It is ideal for busy parents and teachers.
When a child uses his creativity, you'll find that no two pieces are the same. There is always originality in the product. Each child create intuitively and differently with each other according to their own creative skills. What a delight.
With the finished product, you can use them for various other arts and crafts: cut it to shape, use as backgrounds, frame it, stick it....etc
When you have more time, you can make a big poster, wallpapers or gift wrap and when you are rushed for time, you can just do a small postcard or bookmark.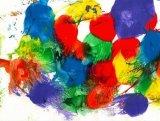 MATERIALS REQUIRED
Sheets of craft papers
At least 3 primary colors
Roller / Ruler
Scissors (optional)
Table Mat
OBJECTIVES
To enhance creativity
To improve eye-hand coordination
To work on fine motor skills
To experience with colors
To have fun
AGE
STEP BY STEP INSTRUCTIONS
Prepare the required size of craft paper
Have various colors at hand, minimum 3 basic colors
Generously squeeze or apply colors randomly in blob / spots on the paper
Guide the kids to have a good contrast and spread of the colors.
Using another piece of paper, cover over the paints
Use a roller/ ruler to roll across the top paper spreading the paint underneath
Remove to observe the effect
Put aside to dry
The top piece of paper may be used as well.
---
Here are SOME IDEAS on what you can create :

TABLE MATS

Trim edges with art scissors and laminate, insert

PUBLICITY POSTER BORDERS

Cover the center of the drawing paper and leave a border around. Use the center blank space for writing your message / advertisement.

ABSTRACT ART

Frame it as an abstract masterpiece. The frames can be created in your craft activities class.

GIFT WRAPS

Use big postal packaging paper and turn it into a beautiful gift wrap. You can use part of it as a matching GIFT TAG

GREETING CARDS

Use it as a background to a greeting card

POSTCARDS

Stick the art on a 3x5 card and design the back with lines and column that looks like a postcard with a square at the top right hand corner for sticking a postage stamp.


Return to Preschool Art Projects for more ideas




Custom Search
Go to top of this page - Spot Painting
Return to Homepage