Christmas Paper Crafts
Here are some ideas of Christmas Paper Crafts that you may use for your preschool craft activities.


Snowman Crafts
It would be good to begin by telling your preschool kids that Snowman is not really in the original Christmas story found in the Bible. Snowman has become part of the Christmas season because most people associate Winter with Christmas. But look around the world, the month of December may not be winter in many other countries.
Yet, all over the world people still associate Christmas with winter. In places where there are no snow, people would use Frosty sprays to cover their window panes with pretend snow. Kids would make snowman - not out of snow but with papers, cotton and foam balls...etc
In Singapore, an island just north of the Equator, a snow machine is made to produce snowlike flakes (actually soap bubbles) just to enhance the spirit of Christmas. There's also an indoor Snow City where snow is artificially made, just for the experience of an outdoor/indoor winter. The Spirit of Christmas is generally wintery and white.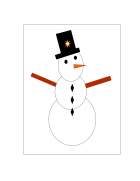 OBJECTIVES
To associate Christmas with the Winter season
To enhance creativity
To introduce / review geometrical shapes
To improve eye-hand coordination
To work on fine motor skills
To have fun
AGE
MATERIALS REQUIRED for Snowman Christmas Paper Crafts
3 white circles (of increasing size) cut from white card papers
2 black buttons (for the eyes)
3 colorful buttons (for the body)
1 sharp triangle from orange card papers (for the nose)
1 black square, & 1 rectangular strip ( for the top hat)
5 little black sticker dots (for the mouth)
2 brown rectangles for the hands
Table Mat to protect the work surface
STEP BY STEP INSTRUCTIONS for Snowman Christmas Paper Crafts
Talk about the story of Christmas
Talk about the weather and seasons
Talk about how people celebrate Christmas in different countries.
Introduce or review geometrical shapes - circles, triangles, rectangles, squares.
Assemble the shapes to make a snowman
Apply glue to stick them together

OPTIONAL VARIATIONS
Introduce diamond shape - trapezium / pararellogram and use them for the body instead of the circles.
Attach a string to the back of the hat
Stick cotton balls on the 3 white circles to create 3D effects
Stick a twig for the hands
Tie a ribbon around the neck as a snowman scarf
Fold a triangular stand and attach to the base to make it stand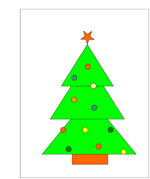 Christmas Tree Crafts
In a similar way, Christmas trees are not found in the Bible where the Christmas Story is told. This has been a tradition that was past from generation to generations.
Here is another of those Christmas Paper Crafts where shapes may be introduced.
Triangles of increasing sizes may be used to form the tree. You can have about 4 pre-cut green triangles cards for each child or you may want to do it as a class project. Ornaments may be made from circles, squares, rectangles, trapeziums, Hexagons...etc
Gigantic Christmas Tree Crafts
Measure the size of the wall / pillar where you would want your Christmas Tree Craft to be placed.
From green construction papers, cut proportionately big triangles of increasing sizes.
Build the Christmas tree by overlapping the triangles as you stick them to the wall.
Have the children make little ornaments from the Christmas Paper Crafts Activities to stick them up each day.
Choose the best star for the top of the tree
Carry the smallest kid and have him pin up the star
More Christmas Crafts
Edible Christmas Crafts

Christmas story and crafts


See also :
Other Preschool Crafts

More Preschool Activities

Outdoor Activities


Go to top of Christmas Paper Crafts
Return to Homepage