Educational Easter Games for kids
using Easter Eggs


Include Easter games in your preschool lesson plans so kids may have great fun as they celebrate Easter.
Easter Tradition
Just like Santa Claus at Christmas, children wake up from their sleep looking forward to find that the Easter Bunny has left them baskets of candy and has hidden lots of Easter eggs all around the house or garden. Children's clubs and organizations also organized Easter games such as egg hunts and egg rolls, and prizes are awarded to the winners. The custom of an Easter egg hunt as Easter games began because children long ago believed that rabbit laid eggs in the grass, so they would go hunting for eggs.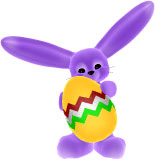 Easter Bunny and Easter Eggs
The Easter Bunny is a rabbit-spirit. It is known that rabbits often have multiple births so they became a symbol of fertility. To the Romans, all life comes from an egg. To the Christians, eggs represent the seed of life and so they are symbolic of the resurrection of Jesus Christ when He rose from the dead.
Easter Eggs are traditionally made from chicken eggs dyed and painted with colorful designs. Many still love this ancient art of decorating Easter eggs. In ancient Egypt, Greece, Rome and Persia, eggs were dyed for spring festivals. In medieval Europe, beautifully decorated eggs were given as gifts.
The celebration of Spring, the story of the Easter Bunny and the resurrection of Christ all culminates to this one big event - Easter. The Church believes that Jesus died on Good Friday and rose again after three days on Easter Sunday. This is the foundational truth upon which the Christian faith is built.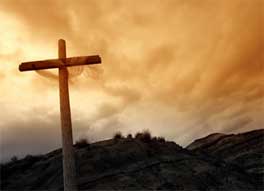 Easter Egg Games
Roly Poly Eggy
Each child has an egg. At the count of three, roll the eggs down the hill and see whose egg gets to the finished line first.

Who will be first ?
Number the eggs in a basket. Toss the basket of eggs down the slope and guess which one reaches the finish line first and which will be last.
Hide and Seek
Hide the eggs behind bushes and trees or under dried leaves and have children search for them.
Make a wild guess
Have a big jar or basket of Easter eggs. Ask the children to estimate or guess how many eggs are there.
Mystery Egg Easter Games
Have about a dozen eggs of different colors and designs. Cover with a cloth and secretly slide one egg into a black pouch. Uncover and ask the children to unravel the missing egg.
Finding the Match
Using construction papers, cut out the shape of an egg. Then divide the egg shaped paper into half with different jagged edges. Have the children try to match them together again. Use Numbers / words to provide clues.
Fun Math Easter Games
Counting, Addition, Subtraction, Multiplication and Division.
Read a problem sum and have kids act it out. (eg I give Mary 5 eggs. How many does Mary have after she gives away 2 to John ?
Chicken lay eggs
Tie an empty Kleenex box to the back of each kid. Pre-cut a hole at the bottom of the Kleenex box. Put some PingPong (table tennis) balls into the box. Children have to shake to the music of "Chicken Dance" (or any fast music) till all the balls fall out through the hole.

Easter Egg Peel

Give each child a chocolate (foil wrapped) Easter egg. Find out which kid can peel the egg at the fastest speed. This is great for motor skill training. You can also use boiled eggs that are dyed.
Huge Jigsaw Egg Puzzle
Depending on size and age of the group, prepare a large Easter Egg cut from construction paper and well colored with traditional designs. Cut into 5 or 10 or 20 pieces and get the children to fix them.
Egg Puzzle Challenge
Depending on size and age of the group, prepare a few pieces of Easter Egg cut from construction papers and well colored with traditional designs. Cut each egg into 5 or 10 pieces and get the children to fix them as fast as possible. The group that get the puzzle together first is the winner.
Egg Race Easter Game
Just like the spoon and potato race, place the Easter egg on a spoon and have the kids balance it as they run to their team and carefully pass it on to the next person in the relay.
Easter Egg Design Game
Give each kid a hard boiled egg and markers or stickers. Have them design their eggs within a stipulated time.
Language Fun Time with Easter Eggs
Sit in a circle, pass an Easter Egg around. When the child holds the Easter egg, s/he says something about the shape, color or story of Easter.
Easter Egg Smash
Do you remember the fun Stepping the Balloon game? Use many boiled eggs with simple and quick dye decorations. Within 30 seconds, kids are to stamp on as many eggs as possible. This is fun but messy. Ensure that you choose an area that can be washed easily. This is not suitable for younger preschoolers.



---

For more Easter activities:

Make big dinosaur eggs with hidden toys

How to write your own Easter songs

Is it Good Friday or Sad Friday

For more preschool activities:

Outdoor Activites for all seasons

Preschool Cooking Activities

Preschool Art Projects

Preschool Crafts

Montessori Method

Child Development

Preschool Activities

Go to top of page - Easter Games

Create your own Easter songs

Hide a toy in your Easter Crafts

Good Friday Friday Story Telling

Return to Preschool Themes

Return to Preschool Lesson Plans and Activities Homepage

This is a non commercial website. You can help with more ideas. If you have more Easter games to share with our readers, please fill in the form below so we can all enjoy your ideas too.


---