Every Child is an Individual.....
by Gillian Fernando
(Nugegoda, District of Colombo, Sri Lanka)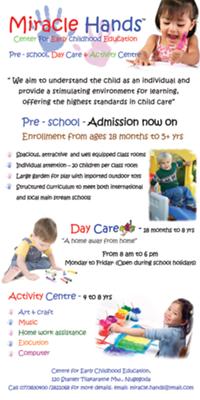 We all expect adults to be individuals, to have likes and dislikes, to be good at some things and not at others. If so, why should it surprise us that children are unique individuals with their own tastes, styles, and abilities? Our program is structured to recognize that every child has different needs (and different abilities) and provide a variety of opportunities to satisfy curiosity, stimulate senses and assist in the development of all children.

Miracle Hands pre -school facility comprise of 3 units. The "Toddler" (ages 2 to 3yrs), the "Playgroup"(ages 3-4 yrs) and the "Nursery" ( ages 4 to 5+yrs).
The "Toddler" unit follows the guide to individual learning. A loose curriculum following some general themes are followed but are secondary to the individual daily plans designed according to each child's individual profile.

The "Playgroup", will concentrate on the essential skills of language development and manipulative skills. Whilst keeping the intimacy of the toddler unit we have combined it with a wider educational and skills-based curriculum.

The third unit, Nursery, is very important in a child's early education as they prepare to enter mainstream school. We have a specialist early years teacher, fully qualified and experienced, to guide your child through this crucial stage. Her overseas experience in international pre- schools and working with multi-national children has been of significant influence to the differentiation we aim to create. Our aim is to have many teachers within local schools recognize our children from their confidence and understanding when they enter the mainstream school situation.

We are blessed to have such a wonderful environment; the children have the opportunity to interact with nature enjoying the outside area as much as possible, and play with a wide variety of materials including very child friendly imported swings and slides. We also have a special area for 'messy' activities such as; sand and water play, playdough, junk modeling, painting and gluing, etc.,

We are also equipped with a "Day Care" facility (Ages 18 months and up) and an "Activity Centre" for after school activity (Ages 4 to 8 years).
Our day care strives to give your child the care and attention he or she would get at home. In doing so, we will make an utmost effort to make the daycare "a home away from home".

Our activity center provides a unique after-school learning experience to keep your school-ager motivated and focused in a fun and stimulating environment. Kids attending our Daycare and Activity Centre from other mainstream schools will be assisted to have their homework and assignments completed at our dedicated "home work centre" so your family will have more free time at home!
We appreciate that all children have different rates of development and different personalities. Knowing this helps us to understand the child as an individual. Our trademark logo, the handprints of an adult, is intended to depict the importance of the guidance of a teacher in the early years of a child's education and learning. We strongly believe in "learning through play" during these early years while supporting the ethos of what is "right 'and 'wrong".
The "right" preschool can help children be better prepared for reading, math, and equally important social interaction that come with mainstream schooling. But "right" may mean different things to different children - because each child is an individual.

Miracle Hands at 120, Stanley Thilakaratne Mw.,Nugegoda invites you to come visit our facility to help you make that important decision.

Miracle Hands- Nugegoda- Pre-school, Day Care and Activity Centre- Where each child is an individual…….