Crafts for kids
Collage with recycled magazines
Here are more crafts for kids, using recycled magazines to form a picture collage. These excellent preschool crafts refine kid's fine motor skill and enhances creativity through cut and paste activities. Now you can get rid of your old magazines and paper scraps and turn it into a great joy and accomplishment for your kids.
This is one of those "do it yourself crafts" where teachers or parents do not have to be too preoccupied with the kids because its so easy for kids to manage on their own.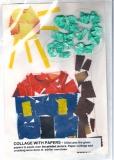 MATERIALS REQUIRED
Sheets of craft papers
Pencil
craft glue
Scissors
Scrap Papers/Magazines
Table Mat
OBJECTIVES
To have further practice with application of glue and pasting
To enhance creativity
To improve eye-hand coordination
To have fun
AGE
STEP BY STEP INSTRUCTIONS
Show a sample picture if you're doing it for the 1st time
Explain that we are going to do a picture with the recycled scraps
Show the prepared drawing with outline of a picture / scene
Show the child the strips, cut outs, and crushed / cut papers (saved from earlier exercises)
Discuss the plan - eg yellow strips for the sun rays, green crushed balls from the trees, brown for the tree trunk etc
Review with the child how to use the craft glue applicator
Invite the kids to paste
When the kids are well experienced, they may draw more complex pictures of their own.
Other ways of using crushed papers
String the colorful crushed papers to make belts, necklaces...etc
Make alphabets & names by sticking the crushed papers closely
Use big crushed papers to form big wall charts
Decorate a kid's or teacher's hat with crushed papers
Use crushed papers as counters for math or games
Crushed a page of newspaper, dip into paint and dap onto craft papers
Use crushed papers for treasure hunt.

Check out more Craft ideas

Go to Preschool Art Projects

More Preschool Activities

Learning Math & Language through Preschool Cooking Activites

Outdoor Activities Program and ideas

Quality Kids Crafts

We happen to think that kids crafts should be simple, fun, high-quality and free. Enjoy our regularly updated collection of printable games and activities for birthday parties, lesson plans or at home with infants, toddlers and preschoolers.


If you have more craft ideas to share, please contact me.
You can help improve this site.


Go to top of page Crafts for Kids